Date sheet for the final examination of Matric (9th -10th), FA / F.Sc  and BA/B.SC programs for semester Autumn 2013 has been announced by AIOU (Allama Iqbal Open University).
Find your dates in front of your subject codes.
Exams start from 5-5-2014 and End at 30-6-2014 of all courses according to this date sheet.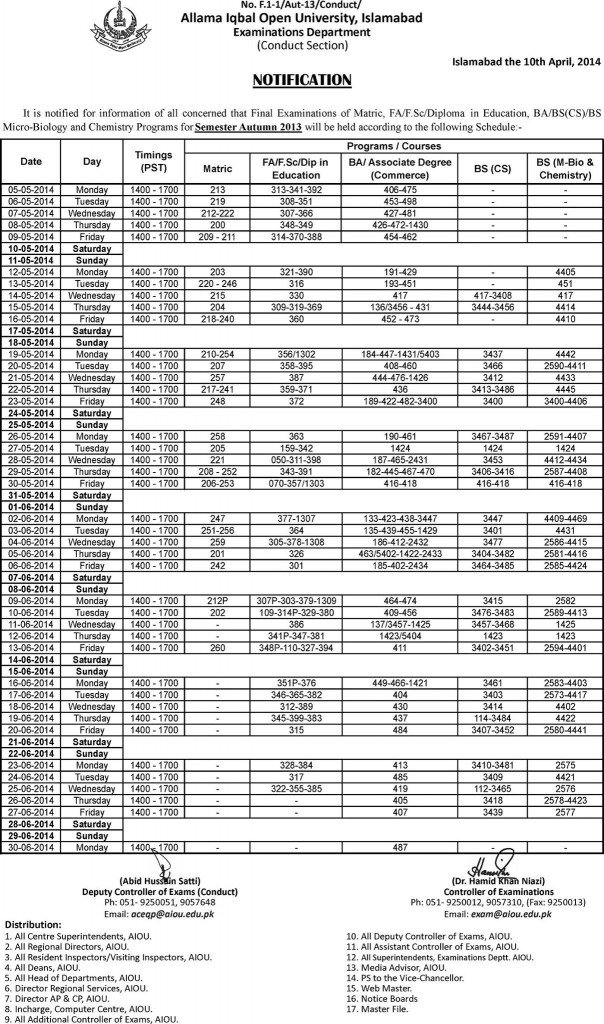 This Date sheet includes the schedule and timing of final exams of following programmes:
Intermediate level (FA / F.Sc / I.Com)
Diploma Level Courses (Dip in Education)
Matriculation (9th – 10th) Secondary Education SSC
Bachelors (BA / BS(IT and CS)) Bio and Chemistry
This datesheet is announced on 10th April, 2014 by University.
All students soon receive Roll Number slips on their mailing addresses and you will also able to find your slips online on the official site of AIOU. which also has name / address of your examination center.
Your questions and feedbacks will be appreciated in comments.